Brazilian Jiu Jitsu is a grappling martial art which was developed by the Gracie family in northern Brazil during the 20th Century. The Gracies were a well established family which helped Japanese new comers also establish themselves in Brazil. To show their gratitude, the Japanese taught their traditional martial arts to the Gracies. It was from these traditions that the Gracies created the now tremendously popular Brazilian Jiu Jitsu. This widely practiced art gained much of it's popularity due to the success of Royce Gracie in the early days of Ultimate Fighting Championship. Today one rarely speaks of the UFC without some mention of Brazilian Jiu Jitsu. It is regarded by many as the best of all the grappling arts.
 Gi or no Gi?
A basic principle of Brazilian Jiu Jitsu is that through the use of leverage and proper technique, a skilled practioner should be able submit an opponent who is much larger and stronger than him or herself. This begs the question of whether these techniques are best achieved by training with or without a Brazilian Jiu Jitsu Gi.
The first thing you should ask yourself before beginning your training is very simple: Why are you training in Brazilian Jiu Jitsu? Are your motives primarily for self-defense? or do you plan on competing in tournaments? If you do plan on competing, what type of tournaments will you be competing in?
Training in Brazilian Jiu Jitsu involves the use of a variety of of joint locks and chokes. Some of these can only be performed when you opponent is wearing a Brazilian Jiu Jitsu Gi or some other garment. One argument suggests that by training with the Gi, one is better prepared for self-defense in real life circumstances. After all it is unlikely that you will encounter a half-naked attacker; the odds are your opponent will be wearing some type of shirt or jacket. In which case, having trained with a Brazilian Jiu Jitsu Gi would give you an obvious advantage. On the contrary, having only trained with the Gi can leave you at a disadvantage in certain cases. If your skill requires that you always have a piece of fabric to hold on to, then you run the risk of being over powered should you ever find yourself in a scenario you are unfamiliar with.
With this in mind, it follows that ideally your training should involve practicing both with and without a Brazlian Jiu Jitsu Gi. Whether your goal is to train strictly for self-defense or if you aspire to compete in tournaments with or without a gi, by using both training methods you can only improve your overall game. If you are just starting out however, most gyms will require that you do train with a proper Brazilian Jiu Jitsu Gi. If this is the case than focus on you Gi training first.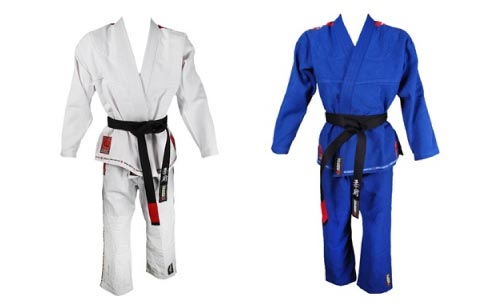 What Makes a Good Jiu Jitsu Gi?
If you are unfamiliar with a Jiu Jitsu Gi (also referred to as a kimono), it is composed of three pieces. The jacket, pants and belt. The Jiu Jitsu Gi is much like the uniform used in Judo or Aikido. They are designed to handle the abuse of of being firmly gripped and pulled during training. There are many different Jiu Jitsu Gi manufacturers on the market so before you make a purchase consider the following basic criteria.
Firstly, as mentioned above, a Jiu Jitsu Gi needs to be of a good quality and designed for training and competing in Jiu Jitsu. Make sure of this before you make your purchase. You do not want to buy a uniform designed for Karate or Taekwondo. These uniforms are not made to handle the wear and tear involved in grappling. When looking at different types of Jiu JItsu Gis bear in mind the different types of weaves. Single weave, double weave, and gold weave.
A single weave Gi will be relatively light which makes it great for training in the summer. They are generally more affordable than the double weave or gold weave Gi which makes it an excellent investment for a beginner who is not yet committed to the sport. The disadvantage of the single weave gi is that the lighter material is easier for your opponent to grip during training or competition.
The double weave Gi is typically twice as thick as a single weave. It will be more difficult for your opponent to grip as well as being very durable. It is a uniform that should serve you well for many years. The obvious disadvantage is that all that extra material will be heavy and warm. This may or may not hinder your performance.
A good gold weave Gi is an ideal compromise between the single and double weave jiu jitsu Gi. They are designed to have the durability of the double weave, with the benefit of the lighter single weave Gi. If you are serious about your training and competition, than a Gold weave Gi is essential. In competition you do not want something as trivial as the type of Gi you bought to be the reason you lose a match. If you are going to  perform at your absolute best than buying the right uniform can be one of the best investments you make.